======= ======= ====== ====== ====== ===== ==== ====== ====== ===== ==== ======= ======= ====== ====== ====== ===== ==== ====== ====== ===== ====
Spring break is over and your bank account is even more hungover than you are. It's bad — real bad. So bad, in fact, that you're wondering if you can donate plasma twice a day. Luckily for you, DraftKings is giving you the opportunity to win some serious cash over the next two weeks.
The first is a special contest just for TFM that you can enter for a shot at the top prize of $3,000 in their PGA $45K contest.
It's so easy to understand the rules on DraftKings that even I can play, and I have multiple learning disorders. You're given $50,000 in cap space to put together a 6-golfer team that will score the most fantasy points. That's it. BOOM. You can win big now.
If this is your first time on DraftKings, your entry is COMPLETELY FREE. If you've been crushing DraftKings like I have, then it's only $3 to enter. Even hobos have $3 and they are hobos for crying out loud. First place in the PGA $45K Mini contest will take home $3,000 in cold hard cash. That's enough money to ensure that you'll be a king at the bars.
DraftKings is also giving you the opportunity to win even more money because they love throwing dough your way. In addition to the $45K contest, they are hosting a $2.2M Millionaire Maker contest for the Masters. I didn't stutter; that says million. The same rules apply for the first contest: you have a $50K salary cap to draft six golfers. This contest is $20 to enter, but the payout is fucking huge. First place in the Millionaire Maker contest will win $1,000,000. You can buy your own green jacket with that money and then some.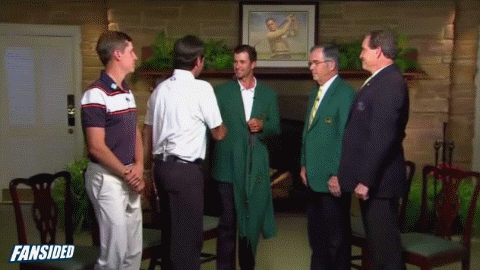 Sign up now before the contest fills and earn your shot at free money.