======= ======= ====== ====== ====== ===== ==== ====== ====== ===== ==== ======= ======= ====== ====== ====== ===== ==== ====== ====== ===== ====
Vincent Smith, the former University of Michigan running back who was the subject of a nationally televised decapitation at the hands of South Carolina's Jadeveon Clowney, is now profiting from the "Hit heard 'round the world.'
From Busted Coverage:
It seems Michigan running back Vincent Smith is getting the last laugh from the Jadeveon Clowney hit in the Outback Bowl. Our sources in Toledo, Ohio tipped us off last night that they spotted this Vincent Smith autographed photo of the hit for sale at a kiosk.

It seems that Maumee, OH sports memorabilia store Hall of Framers is selling the iconic image with Smith's autograph.
To say Smith gets the "last laugh" seems a bit ridiculous considering Clowney will soon sign an NFL contract worth many millions of dollars, but credit is due for turning an otherwise embarrassing moment into a money grab. He's really embracing the loser role here, which requires a healthy dose of humility.
I'm now trying to put this into perspective. We're talking about someone turning a profit from being the victim of an extraordinary football play. I'm sure many industries have their equivalents, so what would be some others? Would the fraternal equivalent be something like the University of Tennessee Pikes peddling rectal funnels online?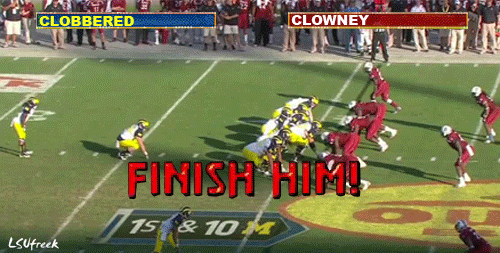 [via Busted Coverage]
***
Follow @RogerDornTFM