======= ======= ====== ====== ====== ===== ==== ====== ====== ===== ==== ======= ======= ====== ====== ====== ===== ==== ====== ====== ===== ====
Last night, a legend stepped away. Kobe Bryant, AKA Black Mamba, spent the last 20 years making big money as one of basketball's human highlight reels. The step back jumpers. The refusal to pass. The "shooter's shoot" mentality. The inability to back down from an insult on the court or to the press. Kobe was a true ambassador for everyone who enjoys basketball for its big personalities and dynamic play. In tribute to that, I've been hard at work compiling the top 10 TFMs the Mamba pulled over the past two decades.
10. "I'm taking my talents…to the NBA."
Right from the beginning, Kobe challenged the idea of having to develop your game at the collegiate level. He knew he'd be scrapping with the likes of Rasheed Wallace, Hakeem "The Dream" Olajuwon, and of course the GOAT himself Michael Jordan, but he didn't give a damn. His '96 season certainly wasn't his finest, as Kobe primarily came off the bench, but the Lake Show finished just one game behind an Olajuwon and Barkley led Rockets squad on their way to the playoffs. His announcement of skipping college, which would be mimicked by flop machine LeBron James ("I'm taking my talents to South Beach," real original pal), was the move that launched the career of a man who would go on to be feared by opponents and teammates alike. On a side note, Lower Merion High School, Kobe's alma mater, hosted the US Open in 2013. Pretty fly for a high school.
9. Dominating The Beijing Olympics
While most NBA players are lucky to be even marginally respected in the US of A, The Mamba is an international sensation. In 2008, the US team was headed to Beijing to assert their dominance over the rest of the world. Despite having younger stars like James, Chris Paul, and Carmelo Anthony on the US team, the entire country of China went absolutely ballistic when Kobe took the court (as a captain, of course). Bean went on to average 15 points a game as the US rolled everyone by double digits, because say what you will but we're fucking great at hoops. The whole time, China rooted for Kobe harder than they pulled for their own squad. Much like rolling into a rival's house and taking the finest woman there home, Kobe was the biggest attraction in a country that tries their hardest to outshine us.
8. Winning Three In A Row
Every great needs a wingman, and in his days with fellow First Team All-Frat Shaquille O'Neal, Bryant was exactly that. Shaq defined being a power player throughout his career, and with the assistance of Kobe the Lakers went on to win three straight championships with Shaq taking MVP in each. There's a lot to be said about a guy who is willing to let the big man shine, and Kobe did just that in the 2000-2002 playoffs. Naturally, his regular seasons those years were absolutely legendary, but everyone with a lick of sense knows that the postseason is a different animal. If your big man is the key to winning, you feed him. Shaq-Kobe is the greatest team up since the Allies, and Kobe played a staunch Winston Churchill to Shaq's FDR.
7. "You shake the tree, a leopard's gonna fall out."
There comes a time when you have to establish your dominance verbally. We all know that actions speak louder than words, but when some new kids start thinking their hot shit it's time to put their JI asses in place. Such was the case in 2008. J.R. Smith and Kenyon Martin of the Nuggets had a whole lot of words for Kobe going into the playoffs, and after game one it seemed they had made an impression. That is until Kobe Bean went off for 20 points in the first quarter, and went on to score nineteen in the span of four minutes in the final frame. Following the 122-109 ass whooping, Bryant went on the record saying, "Better learn not to talk to me. You shake the tree, a leopard's gonna fall out." The Show went on to sweep the Nuggets and leave J.R. Smith bouncing from team to team. Any pledge trainer worth his salt knows that strong words following a thorough display of superiority can wreck a guy for life, and that's exactly what KB did.
6. 2011 Playoffs Against the Mavs: 29 shots, 0 assists
Coming off a Lakers Championship, Kobe was in full swing when it comes to his reputation as a selfish type. This was illustrated better than ever in the wake of his playoff performance against the Dallas Mavericks (the team that would go on to win the title) where Bryant would go on to shoot 29 times and record a whopping 0 assists. We all know that shooters shoot, and 36 points is nothing to sneeze at. However, the 16 point lead the Lakers blew against the Mavs would go on to further the myth that Kobe refuses to pass the rock. In the words of Gene Hackman in cinematic gold The Replacements, "Winners want the ball." My biggest regret about Kobe not going to college is the fact that he never had a chance to transfer and spend a year playing IM sports a la Trevor Knight. Dude would have been bananas on the court and in flag.
5. Buying His Wife An "I'm Sorry" Ring
Following the ALLEGED sexual assault of a woman in Colorado, Kobe was in hot water with the press and his wife. How does a man with millions apologize? He goes to a jewelry boutique and buys a 4-million dollar rock for his beloved. Of course, the charges against Bryant never came to fruition, likely because of course a woman slept with him. He's Kobe Fucking Bryant. Also of note, Bean had ordered the small-country's-net-worth of a diamond two weeks in advance, so chances are the man was just treating his lady well. The fact that many people pin the guy's popularity on an incident that, legally speaking, never happened, just adds to his mystique as an all-timer. Aside from that, Nick "Swaggy P" Young should probably take a couple notes after his teammate decided to pull the stupidest prank of all time. You're no Kobe, Nick. Might want to think about that before you dick around on a woman who makes more money than you do.
4. The 35-Year-Old Contract Extension
In 2014, Kobe signed a two-year extension worth 48.5 million dollars, and everyone flipped. Kobe was 35 and coming off a year where back spasms absolutely tore him apart. Everyone except Lakers fans were absolutely losing it, calling the organization (which in hindsight ain't doing so hot) a bunch of idiots and other names I could use but won't. Ninnyhammers. There, I said it. However, Kobe responded in his typical silent but deadly fashion, making short quips which included "Did I take a discount? Yeah. Did I take as big a discount as some fans would want me to? No." Acknowledging the facts but reaping in the benefits anyway is an inherently frat trait, and one Kobe has often exemplified. As a fellow old-hat, I could easily do with a 48 million dollar deal, or just get a couple bucks knocked off my dues instead.
3. The Non-Shaq Rings
When O'Neal left the Lakers in 2004, the breakup wasn't easy. The previous season had featured disputes where Shaq had his bodyguard call Kobe to try intimidating him, something that just doesn't work, and Diesel screaming "Pay me!" at the GM following a pretty solid dunk. Naturally, Kobe added this to his reserve of reasons to succeed. The media immediately picked up on the divorce, asking if Kobe could hope to win a championship without the aid of his Big Man. In 2009, the chirpers were laid to rest. Kobe won his first Finals MVP to the average of 32 points and 7 assists a game. The Lakers repeated in 2010, thanks largely in part to Bryant's play. Though he will never match Jordan's 6 rings, and let's be real, nobody will, Kobe's 5 is an accomplishment people can only dream of. The best part? He did it while rubbing his old first fiddle's nose in shit. 5 is bigger than 4.
2. The Matt Barne's Inbound Incident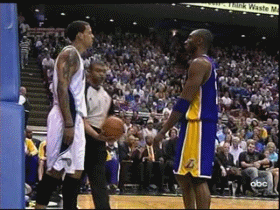 In the grand scheme of things, this seems rather light. A typical inbounds play in a typical regular season game. The play itself, however, was vintage Kobe. The stage was set in 2010, and Matt Barnes of the Magic decided to pull a tough guy move. Mid-inbound, he faked tossing the ball at the Mamba, and Kobe responded by chewing his gum and staying on his toes. Fearlessness in the face of possible physical harm. FaF. 'Nuff said, moving on.
1. Kobe Slips It To Canada, Dismisses Teamwork
Sometimes in life, you have to put the team on your back. In 2006, at a game against the Toronto Raptors featuring Jalen Rose, folks were getting ready to leave the arena when the man of the hour decided to wake up. In the span of the next half, he dropped 55 points en route to an 81 point game the likes of which the association hadn't seen since Wilt the Stilt went for 100. Unlike Wilt, who mostly scored due to the fact that he was a literal head above the rest, Kobe did it in typical Kobe fashion. Behind the line, with the left, driving in and throwing bows. It was Kobe at his best. Along with his electric scoring decimating the entire country of Canada, Bean managed it all while recording two too many assists. It's the signature moment in his career, and the one people will bring up until they're dead and in the ground.
Just as Kobe established himself as an icon with his attitude (frattitude?) and his talent (fralent?) so should you go out and impose your will upon the world. Whether your calling is as a broker, a politician, or a ditch digger, approach it with fearlessness and silent passion and people will be talking about you after 20 years. Happy trails, Mamba. Thanks for the memories..
Image via YouTube