======= ======= ====== ====== ====== ===== ==== ====== ====== ===== ==== ======= ======= ====== ====== ====== ===== ==== ====== ====== ===== ====
Is Taylor Swift a bonafide international sex symbol? Is she merely a cute girl whose appeal is stifled by her paltry frame and gangly mannerisms? Is she somewhere in between? Is she sexy? Is she even pretty? Does she qualify for the broadly-interpreted term "hot"? These very important questions need answers, because since she is on the verge of ripping J-Law's esteemed title of America's Sweetheart, we have to figure this chick out.
The release of Taylor Swift's mega hot music video for "Blank Space" (the song is inarguable fire, by the way) triggered a heated discussion here in the office after two things happened. First, just about every guy commented about how incredibly sexy Swift was in the video. Mutters of "I would legitimately let her stab me" and "I bet she's an animal in the sack" filled the room. And secondly, a female coworker of ours asked this question: do you guys really think Taylor Swift is that hot?
The video has been viewed over 57 million times since launching nine days ago. If at least one of those views isn't yours, you have to watch it now.
How sexy? So sexy.
When men think of a woman they deem "hot," they likely picture a swimsuit model with big tits, curvy hips, a full ass, a flat stomach, long, muscular legs, tan skin, and a pretty face to bring it all together. That's typical hot in the simple man's mind. Taylor Swift checks off less than half of these attributes. It's like her body was going through that awkward developmental stage we all go through in our early years–the pubescent growth spurt where we get too tall, too fast and our body parts are failing to keep up with the pace–but she just got stuck there. Her body is stuck on awkward (them legs, though). Using the standard "hot" litmus test, Taylor Swift comes up pretty short. Hot, she is not.
Like a newborn giraffe taking its first baby giraffe steps, she also has an impossibly awkward demeanor and command of her bodily movements. Let us not forget her unfortunate sampling of awkward, and many times lonesome, dancing clips from award shows.
A painful spectacle. Throw in her naturally poor posture and her uncomfortably tall, borderline emaciated frame, and it doesn't paint a sexy picture.
But here I am, absolutely and categorically smitten by this girl. She suddenly oozes sex appeal. Last week she was a blip on my radar, and now, after watching her video, I can't stop daydreaming about the mind-bending makeup sex we'd have after she dropped my iPhone in a koi pond in the backyard of her mansion. But how did she get so sexy? When did she get so sexy? More to the point, what is it about Taylor Swift that makes her so damn sexy?
I've figured out that her sex appeal is off the charts for these six reasons:
1. She owns it.
Confidence is crazy sexy. Taylor takes the "Dance like nobody's watching" idiom and applies it to all facets of her life, including, obviously, literally dancing like nobody is watching–even if it's at a nationally televised event and everyone in America is watching. With the release of the "Blank Space" video, she proves that she is very self-aware and fully embraces her public persona, which is that of a crazy chick who might stab you in your sleep.
2. She's a crazy person.
As W.R. Bolen explains in depth, T. Swift is crazy, and a certain brand of crazy can be really hot. She embodies the sexy crazy brand. It's the kind of crazy you want to experience firsthand for reasons you can't quite make sense of. You want to see what it's all about behind closed doors. You want to know if she's as crazy as people say, and whether she would go crazy over you. And maybe, just maybe, that crazy carries over into the bedroom.
3. She's beautiful.
She's not hot, but she has the rare classic beauty, and classically beautiful women can get away with lesser physical attributes elsewhere. Her face carries her entire physical appeal.
4. She's successful.
Some guys are intimidated by successful women. Those guys are cowards. Success is sexy, and everything T. Swift touches turns to gold. Her country music mantle has no room left for trophies, so now she's trying her hand at pop, and she's already throwing flames.
5. She has an indefinable sexy quality.
Rachel McAdams has it. Kate Beckinsale has it. Taylor Swift has it, too. These women are beautiful, certainly, but what sets them apart is a sex appeal that's immeasurable, indefinable, and one that defies explanation. It's the "it" factor.
6. The eyes.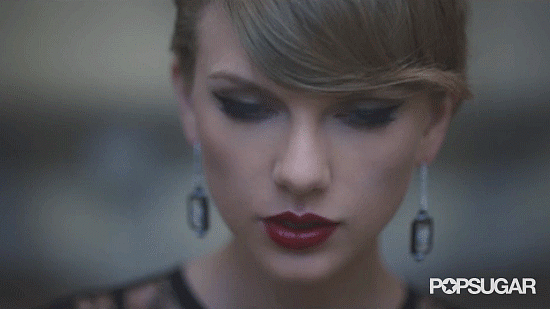 My pants just melted off..
Image via YouTube