======= ======= ====== ====== ====== ===== ==== ====== ====== ===== ==== ======= ======= ====== ====== ====== ===== ==== ====== ====== ===== ====
You know what sucks? Not getting laid. Know what sucks more? Pregnancy scares, STDs, and the feeling of being rejected in a place you once loved. I still can't spend a whole day at Busch Gardens without crying. Well, cry no more, fellow sex-starved humans! It's time to throw away your blow up dolls and burn your pocket pussies, because there's a new fuckable innovation just over the horizon. They're taking the form of sex robots, and they're going to be huge (metaphorically speaking).
From the Huffington Post:
Matt McMullen has been creating realistic-looking human dolls for sex since 1997. He tells 60 Second Docs the technology needed to make raunchier robots is getting better all the time. People spend $5,000-to-$10,000 for lifelike dolls, but McMullen believes the real value is making the sex doll experience as real as possible. "I'm moving into the future. I'm going to make the world's finest love robot," he said. "One day two people who are on two different sides of the Earth could engage sexually, through their dolls. Or they're in a virtual environment together. I think those kind of things are going to become very commonplace.
I guess you don't have any excuses for not having a formal date, do you, Turner? Just a couple grand and some know how before you're cruising along with the belle of the ball. This isn't some Moody Maggie either, my man. Say farewell to the days of half-hearted tuggers and assurances that she's pretty. You know these robo-dames are going to have kung fu grip action for your man meat, and they'll always be down for a good porking. Do you think that honey hole vibrates? I bet it vibrates. Let's not forget about what that mouth do, either. Just picture yourself, fully torqued as you slide your hog into this welcoming hole.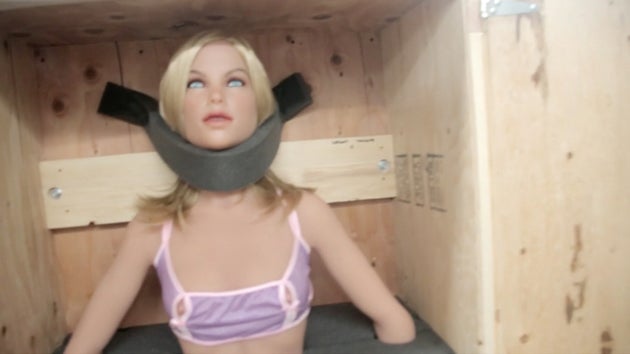 I'd give that server some traffic, if you know what I mean.
No longer will man have to succumb to creepy mail order bride catalogues or Craigslist ads for companionship. Instead, they can just flip open the newest edition of Wired and find a mate of their choosing. Like Cat Stevens said, it's a wild world. I'm just glad we'll all be around to see the inevitable uprising that comes along to end it after some idiot bootlegs the 50 Shades of Grey DLC..
[via Huffington Post]
Image via YouTube