======= ======= ====== ====== ====== ===== ==== ====== ====== ===== ==== ======= ======= ====== ====== ====== ===== ==== ====== ====== ===== ====
Marshall Henderson is the kind of public figure that creates many opinions on the opposite ends of the likability spectrum, and very few fall in between. You either love him or you hate him, and I believe it's safe to assume the further away you get from Oxford, Mississippi, the balance of hates-to-loves starts to tip heavily in the "hates" favor. He also seems to really embrace the villain role, making those who already dislike the guy dislike him even more.
Henderson is a boisterous competitor who appears to play on pure emotion, and the effects of this have landed him in the national spotlight this basketball season, mostly for his over-the-top celebrations and aggressive interactions with the opposing crowd. A lasting example of Henderson's antics occurred Sunday after Ole Miss fell — ending their season — to Lasalle in a thrilling third round matchup of the NCAA tourney.
According to eyewitnesses, and reported by many Twitter outlets, Henderson let a couple middle freedom rockets (H/T to Karl Welzein) fly at opposing fans as he was exiting the arena.
Marshall Henderson just gave the KC crowd double middle fingers. Classy.

— RockChalkBlog.com (@RockChalkBlog) March 25, 2013
Henderson claims, however, the double birds were in response to heckling from fans, including someone yelling that his sister is a whore and "something about cocaine."
I asked Marshall Henderson why he flipped off the crowd: "someone yelled that my sister is a whore and said something about cocaine."

— Danny Parkins (@DannyParkins) March 25, 2013
Of course it's easy to question whether he's telling the truth about that part or not, and some reports are refuting his claim. I tend to believe him, though, because throwing your sister under the bus unnecessarily like that would be a cold-blooded move, even for Marshall Henderson.
The public apprehension is natural in light of his recent history. When some of your previous crowd interactions look like this: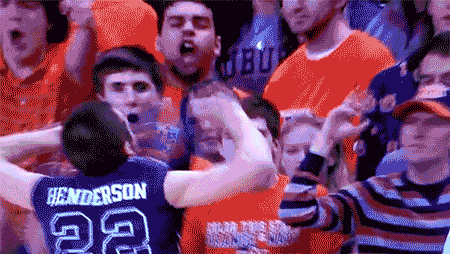 and this:
…it's tough to give you the benefit of the doubt, Marsh.
Like I said though, I believe him, and I too wouldn't take kindly to some people I didn't know taking pot shots like that about a family member. Only adding to his frustration, I'm sure, was that there is very little that can be done in retort. Such is the life of a public figure, especially an athlete.
Aside from that, Marshall's sister doesn't look anything like a whore. In fact, she looks like a really sweet lady.
[via Big Lead Sports]
Images via Ole Miss News, Facebook

***
Follow @RogerDornTFM