The New England Patriots played the St. Louis Rams on Sunday in London's Wembley Stadium. It was part of the NFL's International Series to gain popularity across the pond. The Patriots put a hurting on the Rams something ugly, but Gronk stole the show about halfway through the second quarter after the first of his two touchdowns on the day.
The Brits weren't ready for Gronk's cocky, American antics, but that didn't stop him from mimicking the English guards with this audacious marching soldier number here. And you know he's following it up with his signature Gronk spike.
And in .gif form:
Let's slow it down: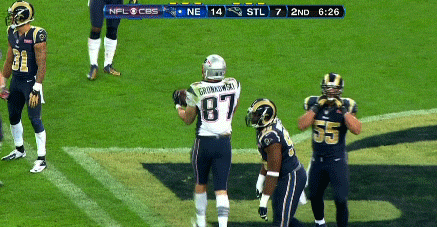 If you were wondering how Gronk brought it with his touchdown number two encore celebration, he amazingly pulled out the never-attempted over-the-head-violent-butter-churn-pelvic-thrust to Gronk spike.
Nailed it.
***
Follow @RogerDornTFM