======= ======= ====== ====== ====== ===== ==== ====== ====== ===== ==== ======= ======= ====== ====== ====== ===== ==== ====== ====== ===== ====
I'm all in on my Philadelphia 76ers newest addition, Jahlil Okafor. Sure, we might've already had two big men that were set to be the cornerstones of the franchise, but you can never have enough towers patrolling the paint. Clearly that's Sam Hinkie's philosophy, since he went ahead and drafted five more front court players in the second round. #TrustTheProcess
Hinkie assured his loyal minions, myself included, that Okafor was not a trade chip and that the 6'10" center would be a vital part of the Sixers' future. So since you're here to stay for the long haul, Jahlil, it's best we get to know each other.
Oaks — it's alright if I call you that, right? Yeah, I'm gonna go ahead and take the liberty of giving myself permission to call you that since I can tell you're a pretty happy go lucky dude. Anyway, part of this job that I have is constantly receiving submissions for a feature on the site called Instagram Babe of the Day. I don't want to waste your valuable time with the details, but I came across an email this morning with a link to this USC Alpha Phi's Instagram and they claimed that she was "sorta having a thing" with you. Their words, not mine.
After some further investigating, you two certainly know each other.
Now I never claimed to be an expert on relationships, but when you win a girl a giant stuffed frog(?) at the fair, things are getting pretty serious. Next thing you know, you're picking strawberries together or hitting up the local crafts bazaar on a Saturday morning. It wouldn't shock me if you two rescue a puppy from a shelter in the coming weeks. All I'm saying is that she seems like a great girl, Oaks. And great girls are hard to come by, especially for a professional athlete. I wish you two love birds nothing but the best.
We're going to have to get her some number 15 Sixers threads.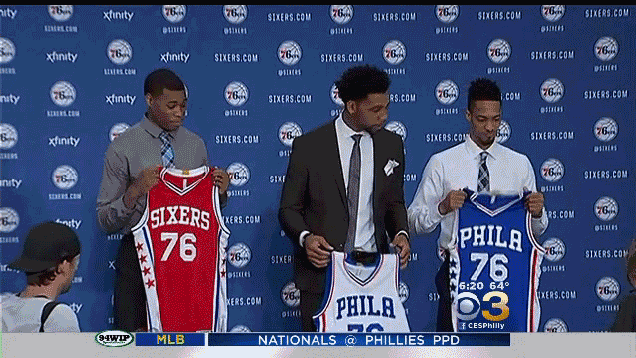 When you have no time for a presser because you have a hot date with bae..
Image via Instagram