Rashaan Evans, a five-star recruit and the number one overall outside linebacker prospect in the country per Rivals.com, chose to attend Alabama to play football on National Signing Day.
Here he is throwing on the Bama cap during the NSD announcement: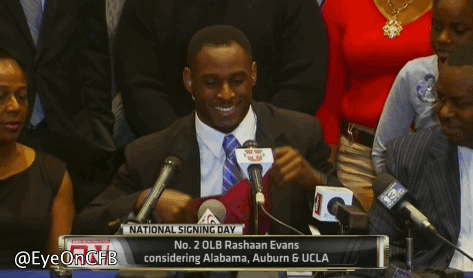 Notice the disgruntled looks on the faces of Mom and Dad. That's because they are both Auburn grads. Dad even played a little ball for Auburn back in the '80s, and Rashaan attends Auburn High School on top of it all.
We're talking about an elite football prospect, whose parents both attended Auburn, spurning the Tigers for the Tide, and just a couple months after beating Alabama on the field and earning a spot in the BCS National Championship. That's got to sting for Auburn fans, especially the ones who stopped by AuburnTigers.com to catch the first glimpse of their new recruiting class and found Evans' profile page (seen in top photo).
Alabama's reaction to Rashaan Evans signing with Bama. pic.twitter.com/D2B3FSgdqz

— Auburn Jokes™ (@AuburnJokes) February 5, 2014
The Auburn SID Department is claiming they didn't actually prematurely erosterlate, but that the profile was set up in advance in case Evans chose the Tigers. It was never supposed to be made public.
Auburn Athletics did not prematurely post a bio of a recruit. Bios are pre-built and hidden by code in anticipation of signing day.

— Kirk Sampson (@AuburnSID) February 5, 2014
Either way, we're laughing.
NSD = Nick Saban Day
[via CBS Sports]
Image via AuburnTigers.com